Economic Substance in the BVI

Your consultant
Alina Marinich
Senior Business Consultant
Do you need an online consultation?
Or text us via messagers
With a recent shift in national and global regulation, operating a business via a purely offshore entity is becoming less and less convenient. Companies involved in certain types of activities, even in traditionally offshore jurisdictions, like the BVI, are now mandated by their respective regulators to maintain physical presence in the territory of their registration – and many banks, too, would not open an account for an entity unless it can demonstrate that it rents an office and has hired employees in its locality. As a licensed Registered Agent with our own office and staff in the BVI, we would be glad to assist you with establishing economic substance in the territory.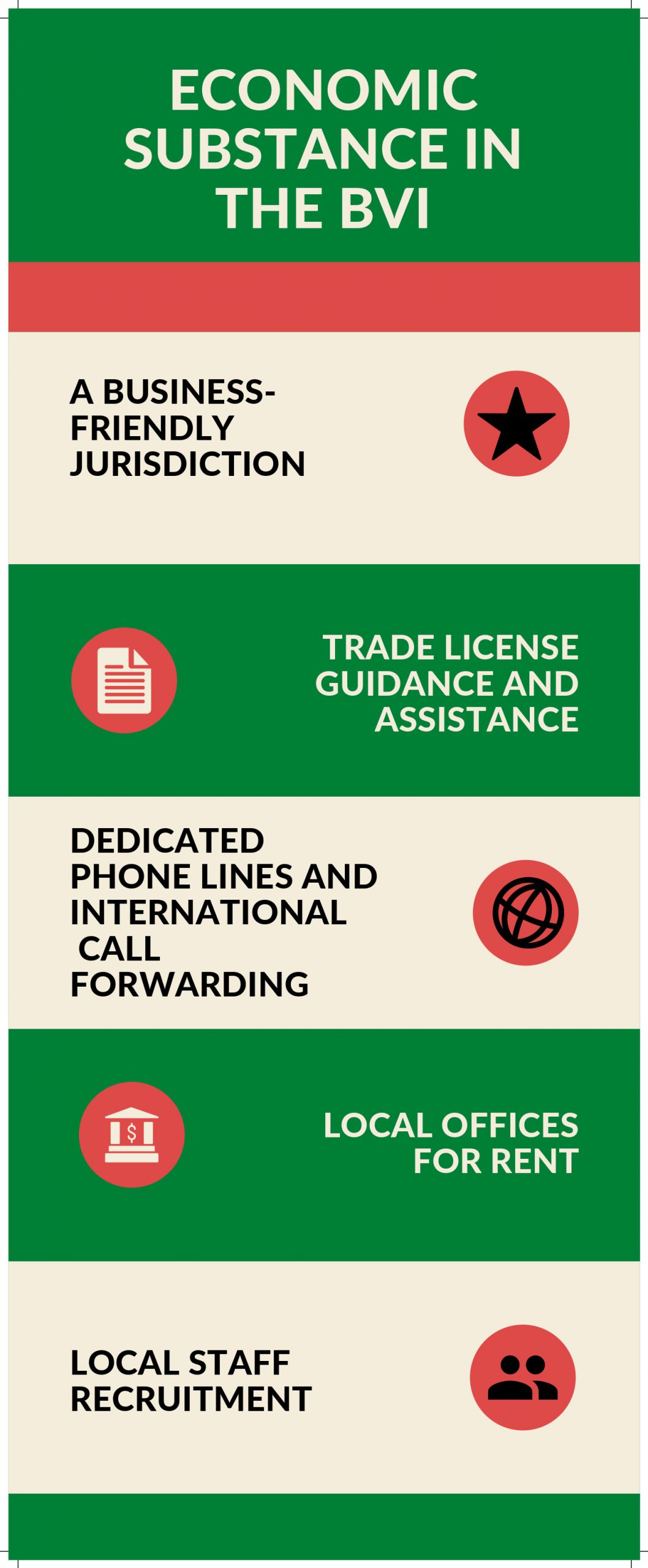 Professional or Trade License
Please note that no entity or individual can operate any business on the territory of the BVI unless they have obtained a Trade or Professional License from the Trade and Investment Promotion Department. You will need to secure this license for your business before you set up your economic substance.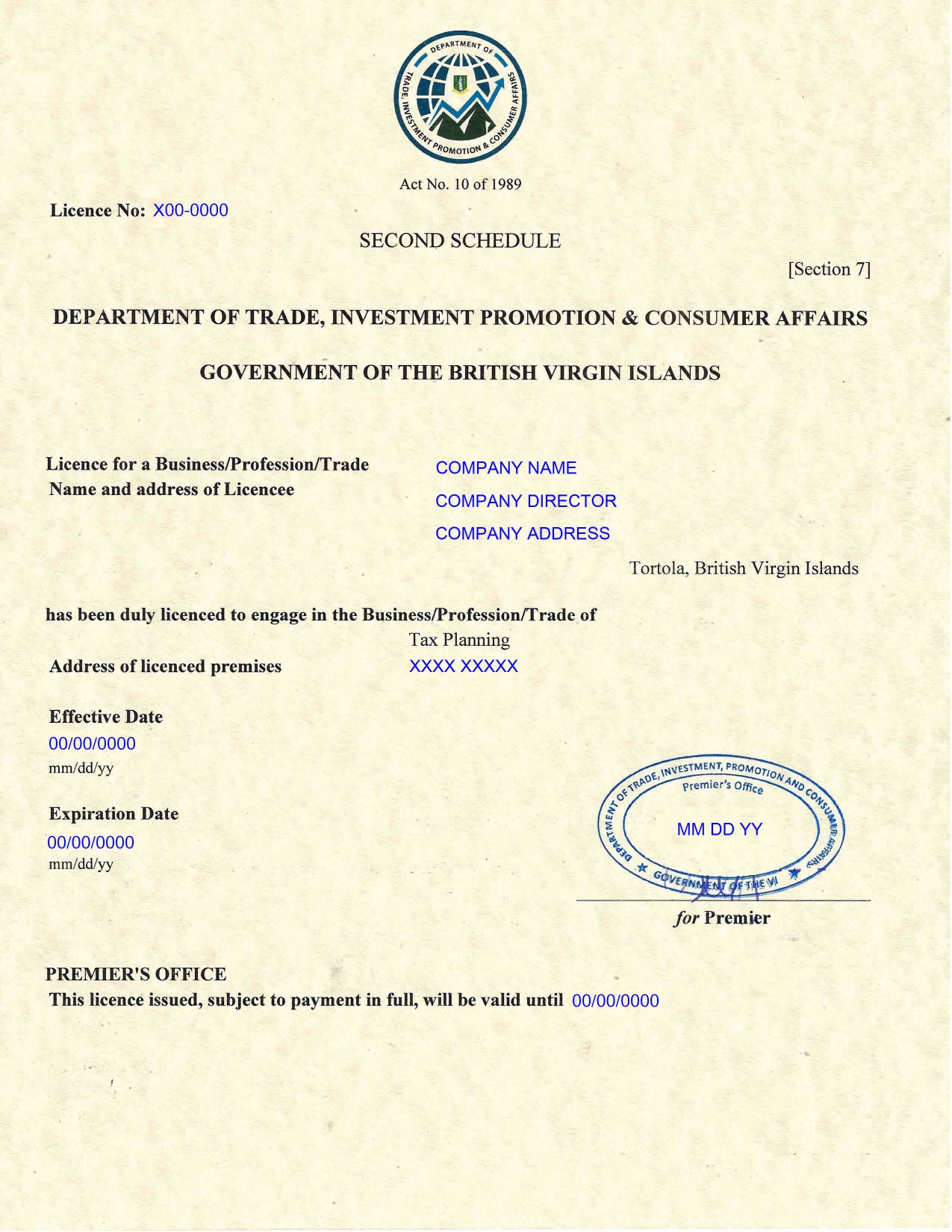 As you apply for a Professional/Trade License, you will need to provide the following data:
A detailed business description;
Your Certificate of Incorporation;
Your Memorandum and Articles of Association;
A Structure Chart of your business;
A Register of Directors for your company;
The director's photographs and credentials (personal reference letter, professional reference letter, bank reference letter or bank statement covering the most recent three years, no criminal record certificate from each country of more than 12 month-long residence, passport copy, a detailed CV).
Additional documents can be requested depending on the particulars of your application. It takes about 6 – 8 months for the authorities to issue the license, and it will be valid for one year.
The procedure is not automatic and there is a probability of rejection. We highly recommend that you obtain a legal assessment of your project before you proceed with your application, and will be ready to put our experience and expertise at your disposal.
Dedicated Phone Line
Our phone call processing package includes the following:
Setting up a dedicated phone line with a number for your exclusive perusal;
Annual maintenance;
Call forwarding to overseas countries and territories, charged per minute once a month. Please note that international call forwarding is restricted in the BVI, and we will use a local SIM card as an intermediary receiver between your dedicated line and the target phone number.
Our fees are 3 150 USD per year, including up to 1 000 minutes of forwarded calls per month.
Renting an Office
We will be glad to assist you in finding a custom office for rent to suit your needs and budget the best. The exact fee will depend on its location, its size, and the number of workplaces it can accommodate. The average rent fee is roughly 2 000 USD per month for an office space of about 100 square meters. We will also charge our agency fee in the amount between a half of and a full monthly rent.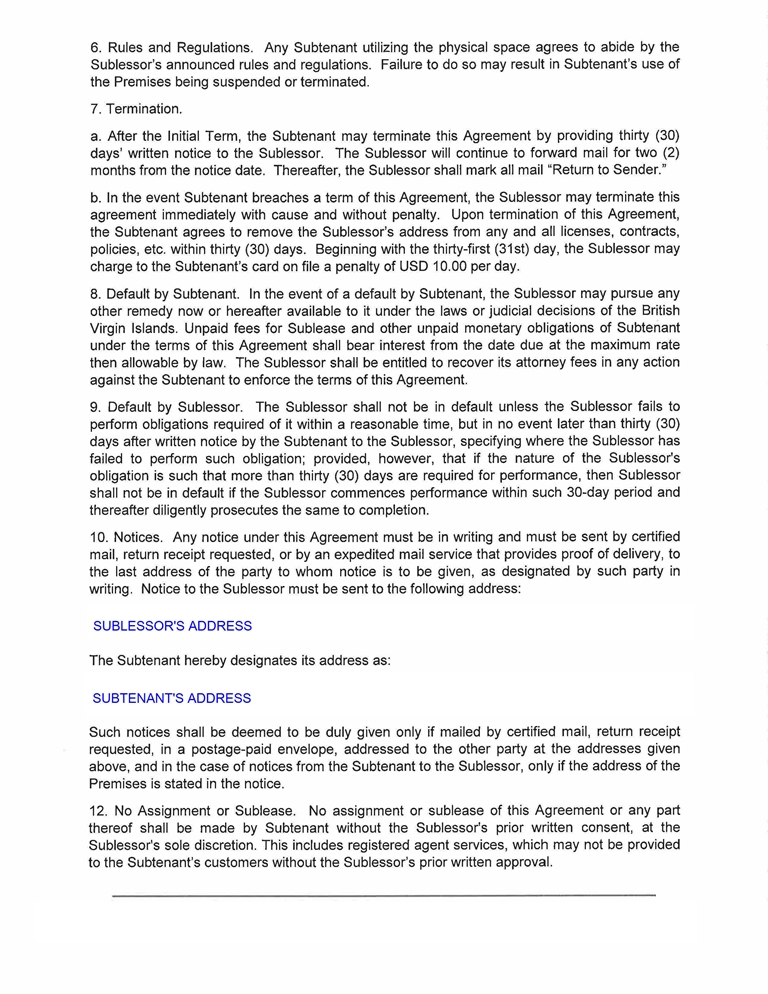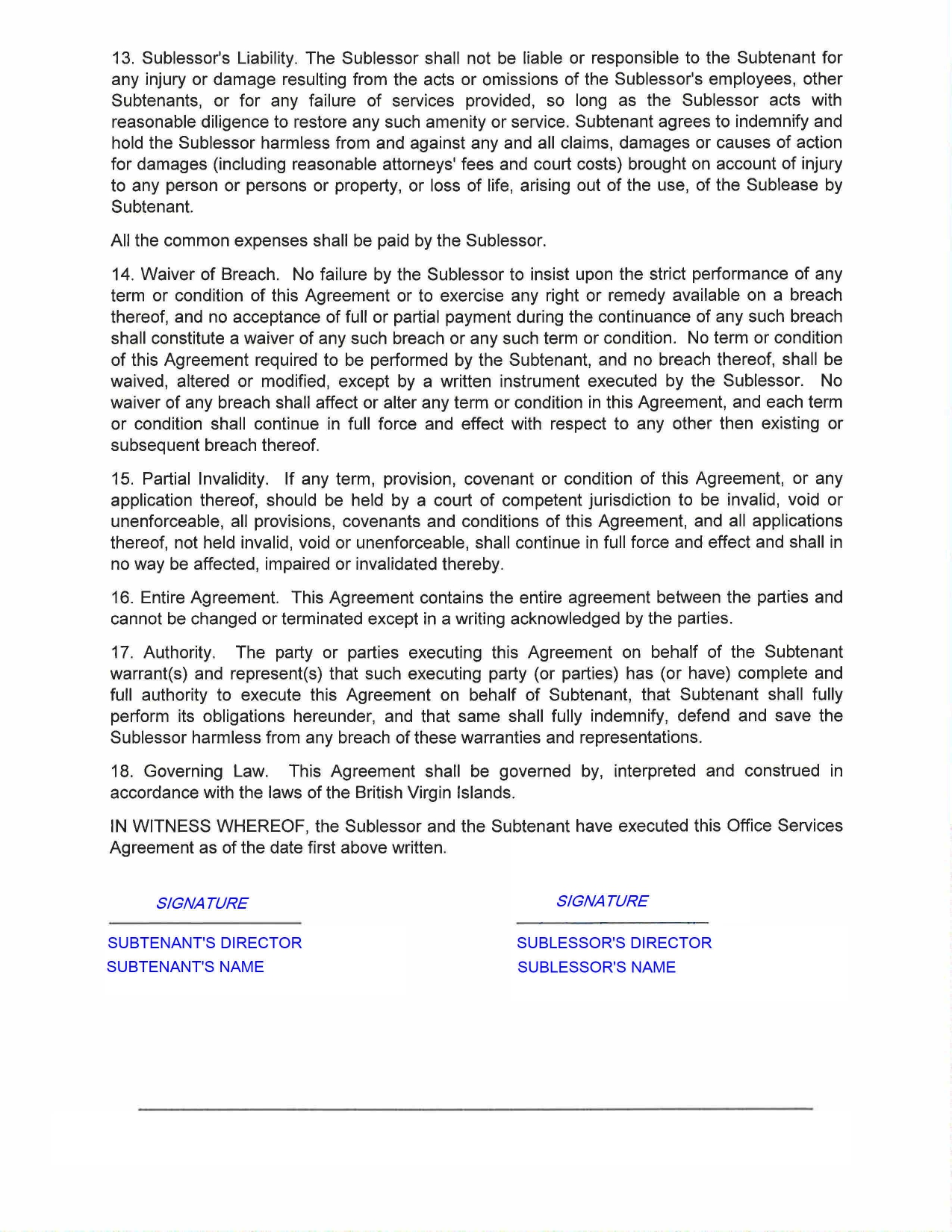 Staff Recruitment
In the BVI, you can hire both local and international staff, but foreign employees must first obtain a work permit and cannot be hired if there are reasonably matching local candidates for the same position.
You will need to notify each employee in writing of:
Their job duties and responsibilities;
Working and break hours;
Starting salary;
Duration of employment;
Probation period (if any);
Vacation and sick leave benefits.
Your company and your employees will also be subject to payroll tax, the rate of which is up to 8% for an employee and up to 6% for an employer. The first 10 000 USD are exempt from payroll tax.
You will need to register each staff member older than 15 and younger than 65 years with the Social Security Service, whether they are local or not, and obtain a BVI Social Security Card for them.
We will be glad to take care of your recruitment process and all formalities involved. With an active BVI office of our own, we are expert in finding local talent to meet any professional requirements, and know how to ensure compliance with the labor law. Our fee for recruiting a qualified employee for your individual project will amount to 1 – 2 monthly salaries as per the employment agreement. The minimal salary in the BVI is 3 000 USD per month.
Fees for basic services
Service Name
Fee (in USD)

Incorporation and annual maintenance

Turnkey incorporation (including a compliance fee, original corporate documents, apostilled copies of the corporate documents, and a company seal)
1 791
Annual maintenance (starting from the second year), compliance fees excluded
1 251
Legal assessment prior to Trade License application
200 per hour
Trade License application
Will depend on the particulars of your project
Government levy for a Trade License
300 – 600 depending on your activity type
Annual renewal of Trade License
300 – 600
Compliance fee to be paid upon:

·         Annual reneweal;

·         Liquidation;

·         Transfer to another provider;

·         Issuing of a new POA for a new attorney;

·         Change of director, shareholder, beneficial owner

225 (basic, including one individual)

+ 45 for each new individual or company in the structure, if the company is administered by ITA

+ 90 for each new company in the structure if it is not under the ITA administration

315 (for High Risk companies)

Economic Substance

Dedicated pone line with 24/7 international call forwarding
3 150 per year

Office Rent

Searching for a custom office space
0.5 – 1 monthly rent fee, one-off
Office rent, with employee access
From 2 000 per month

Staff Recruitment

Staff search and recruitment (selection, CV sampling, up to 3 job interviews, drafting an employment contract):

Non-managerial staff

Managers

Single monthly salary, one-off

Double monthly salaries, one-off

Minimal monthly salary
3 000
Registration of a single employee with the Social Security Service, obtaining a BVI Social Security Card, Payroll setting
Single monthly salary, one-off